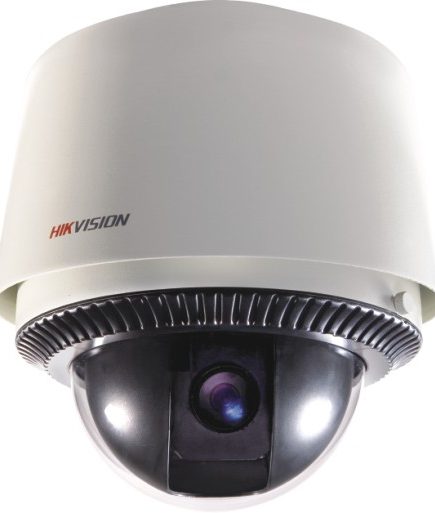 HIGH SPEED DOME IP DS-2DF1-XXXX
– Tipo: Color / Día / Noche / WDR.
– Líneas de Resolución Módulo – Cámara: 480 TV Líneas, CCD 1/4″ Sony EXVIEW HAD.
– Velocidad en Preset: 400º / s.
– Resolución en Pixeles: 704 x 576.
– Zoom: 36X óptico/12X Digital.
– Longitud Focal: 3.4 mm – 122.4 mm.
– Iluminación Mínima (color): 1.4 Lux @ F1.4.
– Iluminación Mínima (B/N): 0.01 Lux @ F1.4.
– Protocolos PTZ RS485: HIKVISION, PELCO P/D Autoadaptables.
– Funciones: Park Action, Patrol, Crucero, Patrón, Scan.
– Función día/noche real con ICR interconstruido (Infrared Cut Filter Removal).
– Función Wide Dynamic Range incorporada.
– Giro de 360º continuos.
– Acciones calendarizadas: Preset / Patrol / Crucero / Patrón / Scan Aleatorio / Scan por imagen.
– Función de Casa: Llama a Preset / Patrol / Patrón / Crucero / Scan Aleatorio / Scan por imagen; después de un tiempo programable cuando no hay movimiento.
– 4 patrones programables incluyendo PanTilt Zoom y funciones de Preset.
– Congelado de imagen entre Presets (evita la imagen de recorrido innecesaria).
– Velocidad de Scan programable de 1-40º / s.
– Autoflip para movimiento vertical 180º.
– 1 entrada / 1 salida de audio.
– 24 zonas de privacidad programables de las cuales soporta hasta 8 en la misma imagen.
– Limites programables para Auto Scan Aleatorio y Auto Scan por imagen.
– Menú OSD (On Screen Display) para programación de funciones.
– 2 entradas/2 salidas de alarma.
– Funciones programables: 200 Presets, 8 Patrols, 4 Patrones, Crucero, Salida de alarma. Utiles para evento de alarma. Grabación en memoria SD (no incluida) y notificación en Software Cliente.
– Protección contra picos de corriente interconstruido y contra descargas atmosféricas.
– Calentador integrado automático.
– Cumple con IP66 para instalación en intemperie.
– Temperatura de operación -30ºC a 60ºC.
– Incluye domo, gabinete para exterior, bracket y fuente de alimentación.
Características de Red:
Domo
– Resolución 4CFI Tiempo Real – 704 x 576 pixeles.
– Compresión de video H.264.
– Compresión de audio OggVorbis/16 Kbps.
– Soporta Dual Streaming (Grabación y transmisión independientes).
– Protocolos: TCP/IP, HTTP, DHCP, DNS, RTP/RTCP, PPPoE (FTP, SMTP, NTP, SNMP).
– Hasta 8 usuarios simultáneos. 3 niveles de autoridad (Administrador, control de cámara y sólo visualización). Seguridad por autenticación de Login ID y Password.
– Grabación manual y por evento de alarma. Soporta memoria SD Kingston y SanDisk de 512 MB, 1 GB, 2 GB (no incluidas).
– La auntenticación del Host es por Mac Adress.
HIGH SPEED DOME IP DS-2DF1-XXXXKey Features
High Performance Sony CCD
20°/s Pan Preset Speed and 15°/s Tilt Preset Speed
0.3-20°/s Manual Pan Speed and 0.85-15°/s Manual Tilt Speed
Park Action: Start to Call Preset / Sequence/ Cruise, after a Defined Time of Inactivity
Parameter Restore: PTZ & Lens Status after Reboot
Proportional Pan / Tilt: Continually Decreases Pan / Tilt Speeds, in Proportion to Depth of Zoom
Programmable Limit Stops for Cruise
Programmable Zoom Speeds
Built-in Menu System for Setup of Programmable Functions
On-Screen Compass, Pan ,Tilt and Zoom Display
Support Mouse Drag and Zoom
Alarm I/O: 1 Input and 1 Output
Alarm Actions: 200 Presets, 8 Sequences, 4 Patterns, Cruise, Alarm Output, SD Memory Recording and Notification on PC Client
Resume after Alarm: Allow the Dome Return to Previously State after Alarm Acknowledgement
Built-in Surge Protection and Limited Lightning Protection
Water and Dust Resistance:IP66, for Outdoor Dome
Working Temperature -30℃ ~ 60℃ (Outdoor Models) or -10℃ ~50℃ (Indoor Models).