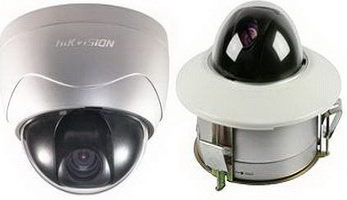 4 » INTERIOR SPEED DOME DS-2AF1-401/402
High Performance Sony CCD.
±0.1° Preset Accuracy.
400°/s Pan Preset Speed and 160°/s Tilt Preset Speed.
0.3-240°/s Pan Manual Speed and 07-60°/s Tilt Manual Speed.
Scheduled action: programmable Preset / Sequence/ Cruise / Pattern / Random / Frame Scan.
Park Action: Preset / Sequence/ Pattern / Cruise/ Random / Frame Scan, after defined idle time.
Parameter Restore: PTZ & lens status after reboot.
Patterns: Up to 4, On-Screen, User-defined Programmable Patterns; Include Pan, Tilt, Zoom and Preset Functions.
Proportional Pan / Tilt: Continually Decreases Pan / Tilt Speeds, in Proportion to Depth of Zoom.
Freeze Frame during Presets.
Privacy Zone Mask: Up to 4 zones.
Programmable Limit Stops for Auto/Random/Frame Scan Modes.
Built-in Menu System for Setup of Programmable Functions.
On-Screen Compass and Tilt Display.
Alarm I/O: 2 inputs and 1 output1.
Alarm Actions: 200 Presets, 8 sequence, 4 Patterns, Cruise, Alarm output, SD memory recording and notification on PC client.
Built-in Surge Protection.
Working temperature -10℃ ~50℃ (Indoor).